Still Life With Murder, P.B. Ryan, Berkley Prime Crime, $6.50.
(out of print, check for used copies at our ABE store).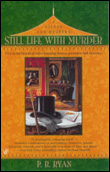 This is the first book in a series which hits the ground running and takes the reader along on a satisfying historical journey, as well as a good mystery story. Like Victoria Thompson (who even provides a blurb) this is a book I would call Anne Perry "Lite" - it's slimmed down with a better motorized plot, all without Perry's increasingly dreary sense of overbearing morality. The main character is Nell Sweeney, a governess to a child in a wealthy Boston family a few years after the end of the civil war - 1868. There's a memorable opening prologue in Cape Cod that sets up the chain of events that lands the grateful Nell her job as governess to a child she adores, Grace. Things really heat up when the family gets back to Boston, however.
The Hewitt family - Nell's employers - have lost two sons in the war and the mother, Viola, Nell's staunchest champion, deeply feels the loss of her children. When one of them turns up alive but accused of murder, Viola is willing to go to almost any length to get her son out of jail and prove his innocence - the same length her powerful husband will go to to make sure this same son stays in jail and is executed for his crime. Nell becomes Viola's agent in the case - meeting with the long lost son and going out with the police and later his lawyer to uncover the true facts of the crime. Since Nell has been slum bred herself, the places she's forced to go to examine the crime are not as shocking to her as they might have been to a governess brought up in a more well off household.
Nell uncovers not only family secrets, but lots of information about opium addiction and the horrifying Confederate Prison camp, Andersonville, that come to light for various reasons. Nell also finds herself with a growing and inappropriate attraction to the son in question. There's plenty of material here for a lengthy and satisfying series - here's hoping they'll all be as delightful and enjoyable as this first outing.

To browse more reviews, use the navigation links at the top of the page.