Anchoress of Shere, Paul L. Moorcraft, Poisoned Pen, $24.95
(out of print, check for used copies at our ABE store).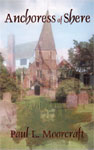 This may be a shade on the creepy side for your average history mystery fan, but it's well worth a look. One of the more unusual books of any kind I've ever read, it's about an "Anchoress" - women in the 13th century who were literally walled up inside a tiny cell in the church, and about a contemporary woman who is taken by a crazed priest who thinks she's the reincarnation of the 13th century version. Framed by a brutal rape and a horrible murder, this is indeed a creepy, well written, fascinating tale of obsession. You may literally have no idea of what's going to happen next - something to be commended in any novel.

To browse more reviews, use the navigation links at the top of the page.